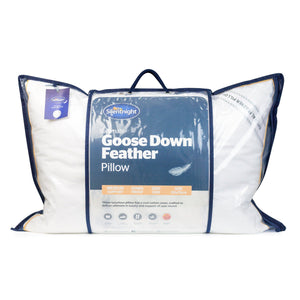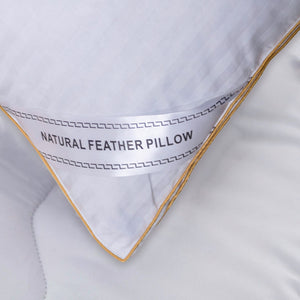 Ultimate Goose Down Pillow
SPGOSEDWNPIL1
Goose Down Pillow -Down Proof Fabric w/ Gold Piping
Our exquisite Goose Down Feather Pillow is meticulously crafted to deliver the ultimate in luxury and support. 
This pillow blends the finest materials ensuring every night becomes a dream-worthy indulgence.
  Key Features :
Premium Goose Feather Filling: Immerse yourself in the sumptuous embrace of our carefully selected goose feathers for their exceptional loft and insulating properties.

Down-Proof Cover: Our specialized down-proof cover boasts a tightly woven fabric that prevents any feathers from escaping, ensuring your sleep environment remains clean and allergen-free.

Breathable Luxury: Experience optimal temperature regulation as you rest. The natural breathability of goose feathers combined with the expert design of the down-proof cover ensures a refreshing sleep that stays cool throughout the night.

Durable and Long-lasting: Designed to withstand years of use, maintaining its exceptional quality even after countless nights of use.
      Outer fabric: 100% COTTON DOWN PROOF 300TC STRIPE.
      Filling: (70% Goose feather; 30% Goose down)
      1200 GSM
---